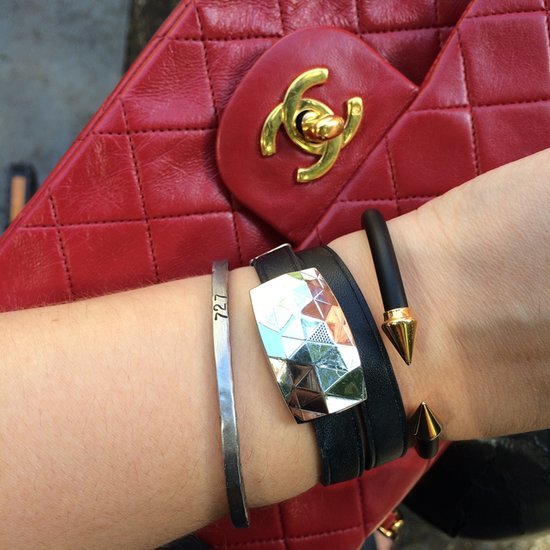 L-R: Liberty United x Giles & Brother Skinny Gunmetal Cuff, JUNE by Netatmo, Vita Fede Matte Black Mini Titan in Rose Gold

The summer unoffically comes to a close this weekend, as much as it pains me to admit it. And while we've enjoyed unseasonably temperate weather for much of August, today, TODAY is the kind of day that reminds you how awful summers in New York can be - it's hazy, it's hot and it's unspeakably humid.

This summer above all others, I've been HYPER diligent about sun protection, and I have one product to thank for that - not a sunscreen, not a straw hat, but instead JUNE, the world's first piece of wearable technology desiged to measure UV exposure and make customized sun protection recommendations. 

Embedded UVA and UVB sensors housed within the JUNE measure sun exposure in real time, communicating via app and push alert to notify the wearer that it's time for sun protection, or in the case of extreme UV index, when it's best to stay inside.

Results are customized based on a 6 question quiz that determines the wearer's skin type - for example, I'm closest to a Type 2 on the Fitzpatrick Scale for Skin Type, meaning that my skin always burns, and sometimes (occasionally, really) tans. The app calculates your total sun exposure throughout the day, and also allows you to see when the UV rays' impact on skin was most intense - the results can often surprise you, particularly on hazy days!

Unlike most wearable technology to date (although that seems to finally be changing), the JUNE doubles beautifully as an actual accessory - the sleek, jewel-like device was designed by French jewelry designer Camille Toupet, and invokes a shimmering, faceted diamond. Available in three finishes, platinum, gold or gunmetal (that's the platinum seen above), the JUNE fits effortlessly and stylishly into your daily stack whether you wear it with the accompanying leather or silicon wrap.

Consider this your friendly reminder that sun protection doesn't end at the close of summer - it's a year round commitment. JUNE is available for $99 here, while the accompanying iPhone app can be downloaded here.

While all opinions expressed are my own, this post was created in partnership with NETATMO.