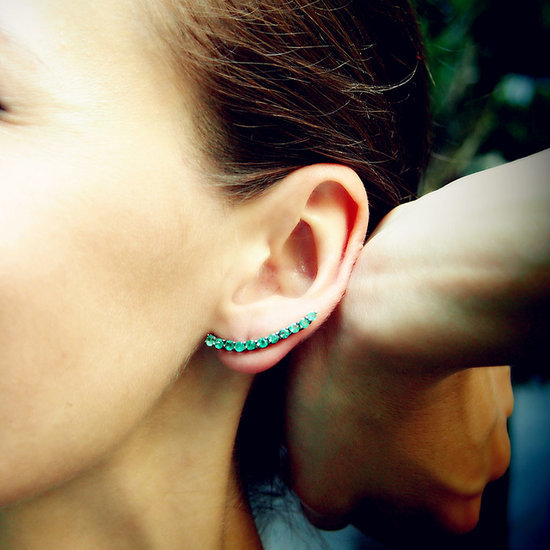 For a long time now, I've been meaning to write a post on minimalism, and all the things- both inadvertent  and deliberate - I've purchased in the quest for. The list is long, if we're being honest, and includes everything from a leather-sleeved Helmut Lang blazer to a pair of Manolo Blahnik BB pumps. That's the dirty little secret of internet-driven minimalism, you see - it's often about replacing every necessary/loved item in your wardrobe with the ultimate version of. After a season or two, I've come the conclusion that while my wardrobe could be considered nearly "complete" -  true minimalism isn't for me, and never will be. As a New Yorker, an Italian and a Leo, excess is just part of who I am. Still, I'm tightening up my list this fall and these are the adds I've got on my list:


Jack Vartanian Universe Emerald Ear Pin (above, $1800) is the most glorious shade of green. After seasons of focusing on wrist or ring stacks, I'm all about ear cuffs, jackets and pins these days.
Artizia has a knack for creating a couple of items every season that I unequivocally need. This season, it's the silk crepe de chine + lace Wilfred Desaix Blouse ($70) 
For some reason, Club Monaco rarely fits me well, but I've still got my eye on the Doris Lace Top (149.50). The cutout lace insets remind me of wings.
A pair of Isabel Marant clogs were my most worn shoe of the summer, so I'm thinking it makes sense to pick up a more seasonally appropriate pair for fall, e.g. this peep toe platform ankle strap (could we have more descriptors here, please?) from No. 6 ($305).
And lastly, though I've no occasion to wear it at the moment, I could live with having this Solace London High Neck mini dress ($161.87) sitting in my closet. All the more motivation for morning Bar Method classes!