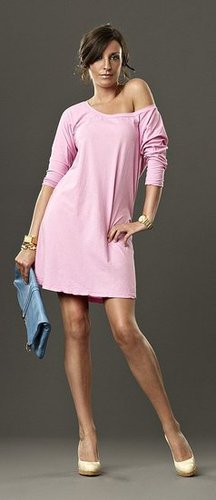 Designer Kate D'Arcy of Toggery is the latest designer to offer up a pick for the Designer's Choice series.
Kate chose the pink Sienna dress, above, from her Spring 2009 collection.  Of it, she says, "It's the perfect transition dress for the spring/summer season because it's long sleeve but lightweight and can be layered and styled to adjust to the variant weather in April and May. It's not too fussy, super comfortable, with a little sex appeal when worn off the shoulder."
While I'm not into the way the dress is styled above, I think it could be super cute with a barely there flat sandal. What do you think? 
If you're digging the Toggery dress above, you can snag your own for $50 at www.luxgreenliving.com.