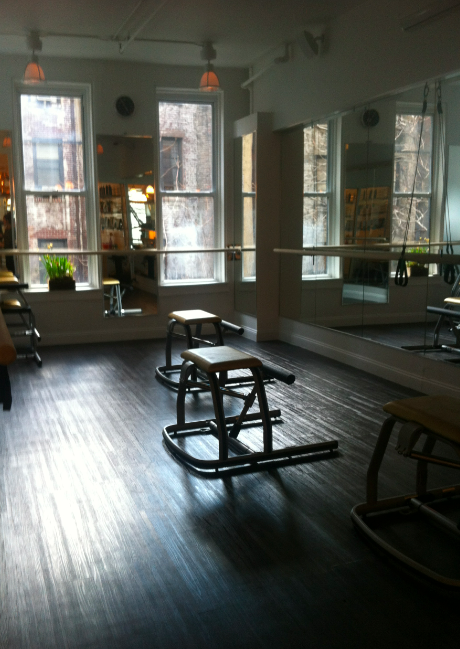 Over the course of the past year and a half, I've indulged nearly every fitness-related whim or desire that came to mind. Boxing? Check. Burlesque? Indeed. But what's made the most significant impact on my body, mind and my well-being has definitely been a combination of barre and pilates classes. SO, when I read a recent feature on Chaise23, a new studio in Flatiron offering classes based on "The Reinvention Method," my interest was piqued.
Using the constant resistance of a chair as well as arm-resistance bungees in place of free weights, Chaise23 classes challenge your muscles, balance and stamina in entirely new ways. As I'm STRONGLY ALLERGIC TO CARDIO, I booked the strength-focused Reinvention Chair class, which used a series of repetitive and entirely AGONIZING movements inspired by Pilates and ballet techniques. After just one class, it was easy to see how impactful The Reinvention Method could be - in fact, studio founder Lauren Piskin (WARNING: HIGH ENTHUSIAM) taught my class and was the best imaginable advertisement with her lean and toned dancer's bod.
Class rates at Chaise23 are comparable to the majority of fitness studios in New York, with singles ringing in at $30, and packages of 5, 10, 20 or Unlimited classes at a discounted rate. Right now, there's a fantastic intro deal running - your first class is just $16, while a month of Unlimited classes is $223.
Chaise23 is located at 40 East 23rd, between Broadway and Park. Learn more about the studio and book classes online at www.chaise23.com.