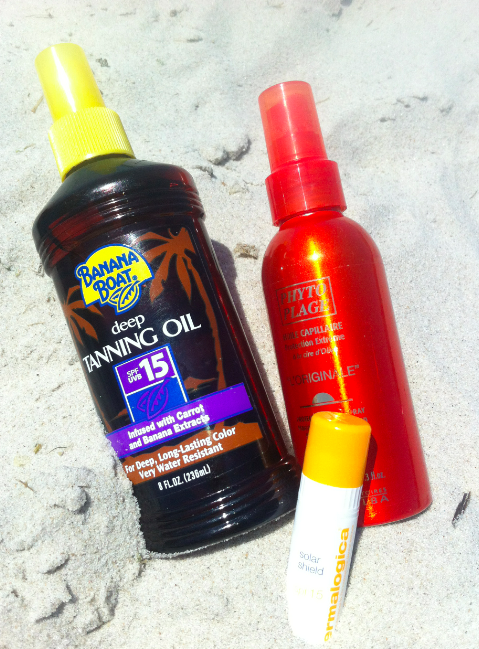 Guys. I'm dying right now. As per us, I acted a fool at the beach today and failed to apply sunscreen in a timely fashion (though I did come equipped, in all fairness.) As such, I'm currently suffering from a VERY painful sunburn on the back of my legs, which are (coincidentally) a lobster-esque shade of red and scalding hot to the touch. I often rely on Twitter for strong counsel on many important issues in my life, and sunburns are NO different. Here's a round up of the BEST sunburn-relief tips I've received to date:
@eye4style Aloe with lidocaine. A milk bath helps, too, or just a towel soaked in milk and laid on the burn. And I still use Noxema.

— Susan Wagner (@SusanW) June 18, 2012
@eye4style hot shower (it's painful but prevents blistering) followed by Burt's bees w/ aloe lotion for soothing.

— Joseph (Joey) Hodges (@joeyhodges) June 18, 2012
@eye4style aspirin and soothing aloe moisturizer (leave in the fridge for a bit before applying)

— Susan Goldberg (@SuGoldberg) June 18, 2012
@eye4style milk bath

— Heather Lynn Piraino (@BeautyQuips) June 18, 2012
@eye4styleMedicated aloe will soothe and numb sting.

— Candice Sabatini (@SabatiniOnStyle) June 18, 2012
@eye4style There's an aloe with lidocain. Perfect remedy!

— Sarah Conley (@StyleIT) June 18, 2012
@eye4style Motrin and aloe. If you can tolerate it, a cool bath or shower. Lot's of moisturizer too. Feel better!

— Teri (@BeautyBlogger) June 18, 2012
@eye4style milk-soaked wash clothes continuously applied..Also a cool bath with a lot ofoatmeal flakes in the water. Feel better!

— BeautyNewsNYC (@BeautyNewsNYC) June 18, 2012
@eye4style tequila. as if you didn't know.

— John DeCicco (@JohnDC) June 18, 2012
@eye4style plain yogurt. smells gross but the consistency cools & the lactic acid aids recovery. cucumbers dipped in milk work too.

— bren lee gomez ♥ (@omgbren) June 18, 2012
@eye4style pop an aspirin or alka seltzer. Alcohol Free Aloe topically. Keep area xtra hydrated

— Regina Ventimiglia (@ggfierce) June 18, 2012
@eye4style solarcaine helped my pain a lot, if u have sun blisters don't use! Aloe Vera Gel kept in the fridge helps too.

— Dana Morgan (@Dmakeup00) June 18, 2012
@eye4style CVS aloe is good bc it has no alcohol in it. Also Solarcaine helps take the "burn" and heat out of the sunburn.

— Tine Alvarez (@TineAlvarez) June 18, 2012
Aloe. Seriously...it helps. @eye4style

— Charu Suri (@Butterflydiary) June 17, 2012
@eye4style Advil will lower your temp and relieve pain.

— Pam Lewis (@outsidevoice) June 17, 2012
eye4style for sunburn? Plain yogurt right out of the fridge. Plus advil.

— Jessica Moore (@Jessatheactress) June 18, 2012
My SPF Picks (above):
Have you ever had a horrifically bad sunburn? How did you recover? Leave me any additional tips in the Comments!