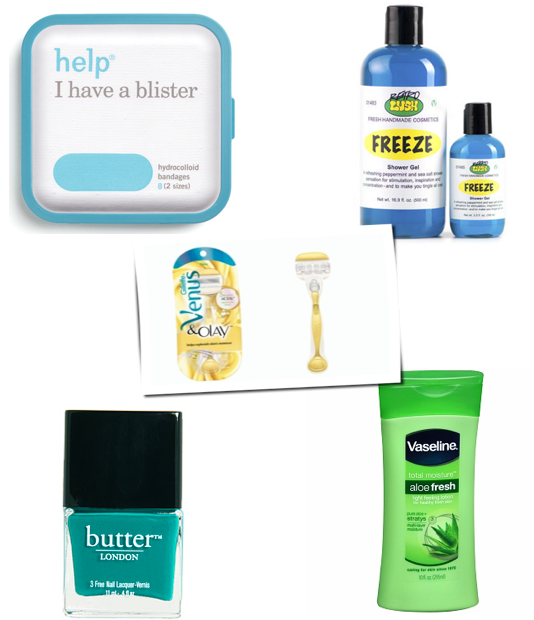 I hate to be that person, that glass-half-empty person who declares summer half over...but, you guys. Summer is half-over! Meaning, it's time to get a move on on the Summer Bucket List and of course, to soak up every remaining drop of sun, sand and surf.
6+ weeks into the season, I've come to rely on a few stand-by products - products that I'd rather not live without, if given the alternative. In no particular order:
Help! I Have a Blister wins for the most clearly named product of all time. It's part of the clever, enormously well-designed collection of Help Remedies (see also Help! I Have a Headache, for one), which you can find nationwide, which is GOOD because you're likely getting those blisters from your life on the road/streets/what have you.
This summer has been particularly hot and steamy, and I've been none to thrilled about it. LUSH Freeze, along with a potent air conditioner, are the only solutions I've found of note, and Freeze is conveniently much less expensive than the latter, at just $9.95 - $27.95. I digress. This baby's packed full of cooling peppermint oil, and nothing is more refreshing on a toasty day.
Summer is of course the season where we spend lots of time in little clothes, and thus, hair removal becomes top priority. Gilette's Venus and Olay razor, with its five blades and skin-conditioning Moisture Bar is one of the best I've come across. It's even endorsed by Sports Illustrated swimsuit model/my girl crush/Twitter rebel Chrissy Teigan, who is clearly required to be hair-free for a living.
The beach, for all of it's sun, sand and salt water, take a terrible toll on my skin, so I rely on Vaseline Total Moisture Aloe Fresh. This clean-feeling lotion is entirely fast-absorbing and combines Stratys-3 multi-level moisture complex and pure naturals for healthy feeling skin. In fact, in a recent survey, 87% of consumers said that they would consider switching their current lotion to Vaseline Total Moisture.
Last but not least, summer is a time for BRIGHTS, and Butter London's insanely teal Slapper Nail Lacquer fits the bill. Try it on tips or toes, I promise you'll garner more compliments than you can imagine.
What are your summer essentials? Do tell in the comments!
While all opinions expressed are my own, this post was produced in collaboration with Vaseline.