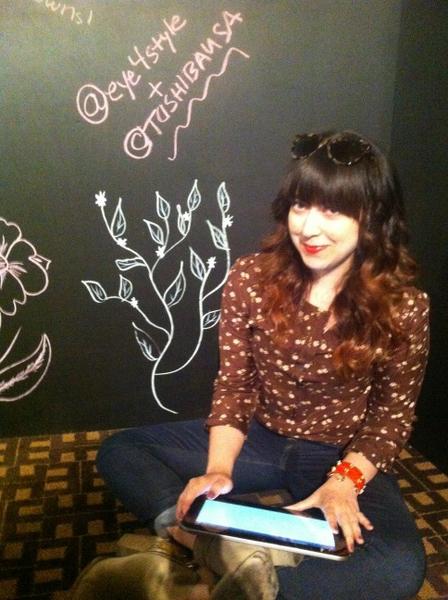 Me, making friends with the Toshiba Excite 10 Tablet today!
New York Fashion Week is here, day 2 in fact, and that means a week of exceptional craziness. Think presentations, shows, dinners and brand events with nary a moment to breathe in between. When I first began covering New York Fashion Week YEARS AGO, a long day at the tents meant a long day hunched over my monstrously large laptop at home, recapping shows into the wee hours and then getting up early to do it all over again. 
A lot has changed since then, not only in terms of available outlets and wifi at the tents, but more importantly, in TECHNOLOGY. This season, I'm thrilled to be reporting in as close to real-time as possible from a new Toshiba Excite™ 10 Tablet. This beauty is a "Perfect 10" by definition - offering a more complete tablet experience in a speedy, strong and durable package. It boasta a full SD card slot for media transfers, built-in Micro USB and HDMI ports for easy connections, dual HD cameras (2MP front-facing, 5MP back) for image capture, and OF COURSE, wifi (cue the applause!)
Best of all, the Toshiba Excite™ 10 is uber-light, weighing in at just 1.32lbs (vs. the New iPad at 1.44), making it easy to tote from show to show, be they at Lincoln Center or Milk Studios.

Learn more about the Toshiba Excite 10 Tablet online (the site is connected to Facebook for a more personalized experience!) and don't forget to follow me on Twitter for real-time updates from New York Fashion Week!
While all opinions expressed are my own, this post was produced in collaboration with Toshiba, ELLE and Style Coalition.