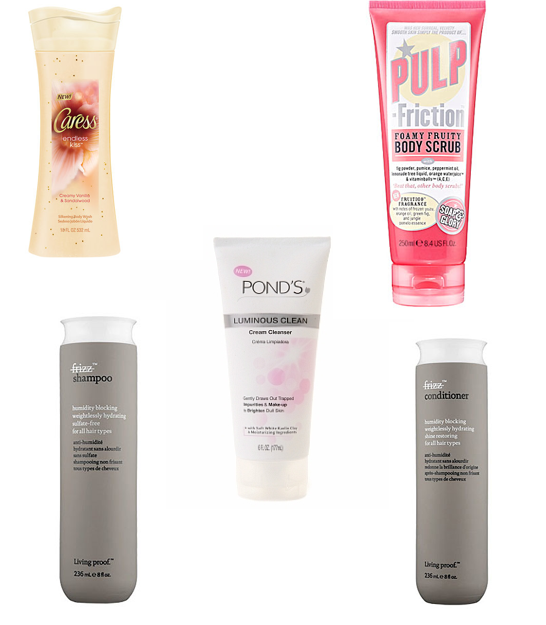 There are those days when my shower provides a fully necessary 10 minutes of reprieve, so in turn, I ask a LOT of the products I stock inside that glass door - namely: efficacy, pleasure and yes, a bit of therapy. These new loves fit the bill:
Despite its disdainful name, Caress Endless Kiss Silkening Bodywash ($5.29) is a delight. Creamy and rich, this vanilla and sandalwood scented shower cream produces loads of lather and leaves skin soft and smelling vaguely like a cupcake. Accordingly, those on a diet may wish to tread carefully.
While the skin on my face is too sensitive for physical exfoliation, scrubs are one of my very favorite body products, and the scrubbier, the better! Soap & Glory Pulp Friction Foamy Fruity Body Scrub ($20) smells sweetly of frozen yuzu, orange oil, and jungle pomelo and fits the bill when it comes to exfoliation - it's thick and lathers up gloriously. I like to smear a generous handful on almost-dry skin, working it in from shoulders to toes for results comparable to a baby's butt.
My skin is so tempestuous, I'm often hesitant to try a new cleanser. But there's something I find comforting about POND'S products, perhaps because my mother swore by their Cold Cream. Of course, POND'S has come a long way since then, and recently revealed a new collection of skincare products, my favorite of which is the Luminous Clean Cream Cleanser ($6.49). Enriched with soft white Kaolin clay, a natural mineral known to act like a magnet to gently draw out deep-dwelling impurities, it leaves skin looking and feeling fresh, glowy and supple. 
Last but never least is my hair. It's been tough adjusting to life with a bob after having long hair for so long, but Living Proof's No Frizz Shampoo & Conditioner ($24 each) have been a major help when it comes to texture. You see, smooth is better when it comes to my cut, and this set keeps both flyaways and frizz under wraps - Jennifer Aniston must be on to something over there.
Is there anything new in your shower these days? Do tell.