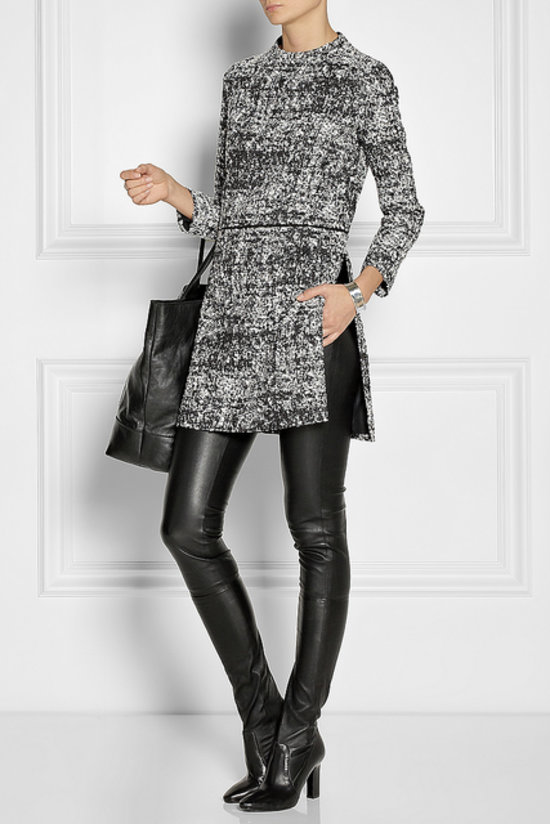 Dear Tamara Mellon, co-founder and former Creative Director of Jimmy Choo,

I know that you clearly know shoes - this is inarguable. And while the recent launch of your eponymous label - glam eveningwear and luxe staples inspired by Guy Bourdin's photography, the Vogue archives and your own incredible personal style - has been highly anticipated by many, these, the Sweet Revenge Leather Legging Boots, raise, in my mind, more questions than answers.

For one, Tamara, please advise on sizing. As a leather pants aficionado, let me assure the casual reader that buying leather pants is sometimes a challenge, for one reason above all others - leather stretches. Like a bitch. With only two (apparently lenient) sizes that correlate also to shoe size - XS/S and M/L - I'm assuming precision in fit is not a priority here.

Secondarily, Tamara (and everyone), while leather does not require frequent trips to the dry cleaner (a damp wipe will often do you), how does one balance cleaning pants (pants that touch things like subway seats, and oh, lady parts) vs. shoe care? It seems that both a dry cleaner and a cobbler will be necessary for normal maintenance of these wildly futuristic Legging Boots, and boy, I cannot WAIT to see their respective faces when I bring these babies in.

Lastly, Tamara, I'm just curious - was this a limited edition of say, 1 pair per size? Because, if not, I am thoroughly confused as to how several sizes of this boot could currently be sold out at the bargain price of $1,995 at Net a Porter.

Looking forward to your feedback, Tamara.

Regards,
Dina

p.s. It has been brought to my attention by a reader that a woman spending $1,995 on a leather legging/boot hybrid is unlikely to take the subway often, and to that reader, I say, point taken.