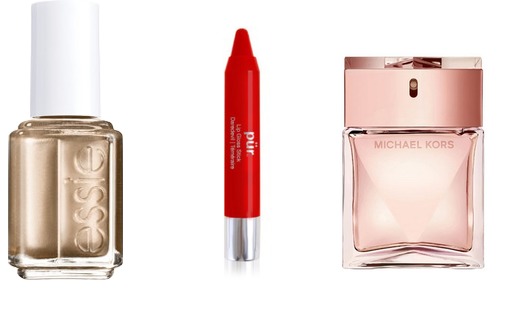 With snowflakes falling this week in New York, it's clear that the holiday season is almost upon us –woot! I loooove the holidays for approximately a million reasons, but most of all, I love holiday food, holiday décor and of course, festive celebrations – of which there will be many on the docket. While I look forward to celebrating the season, prepping for holiday parties can definitely add some fashion and beauty stress, to say the least.

SO, to get ahead of the curve (or more aptly, party season), I thought I'd share a few simple tips to elevate your look from everyday to holiday.

Go for the gold: A gilded manicure (to try: essie Good as Gold) or shimmering liner like this one from budget-friendly Jane Cosmetics is an easy way to add holiday sparkle without being overtly, hit 'em over the head obvious. Subtlety…it's a beautiful thing!

Embrace the classics: A glamorous red lip – classic for a reason - is an easy way to add panache (a word long due for a resurgence, yes?) when you're hopping from the office to holiday cocktails in the blink of an eye. Try a lip gloss stick for ease of application on the go – I dig Dare Devil from Pur Minerals. 

Get dramatic: Try elevating just an element or two of your daily beauty ritual to feel party-ready. For me, that often means a smokier eye and a headier fragrance like Michael Kors Rose Gold Eau de Parfum, which I keep tucked in my desk drawer for spontaneous evening occasions.

How do you prep for holiday party season? Tell all in the comments below, and shop the goodness of Kohl's newly revamped Beauty Department at over 250 Kohl's stores nationwide or online, here.

While all opinions expressed are my own, this post was produced in partnership with SheKnows Experts Among Us and Kohl's Beauty.