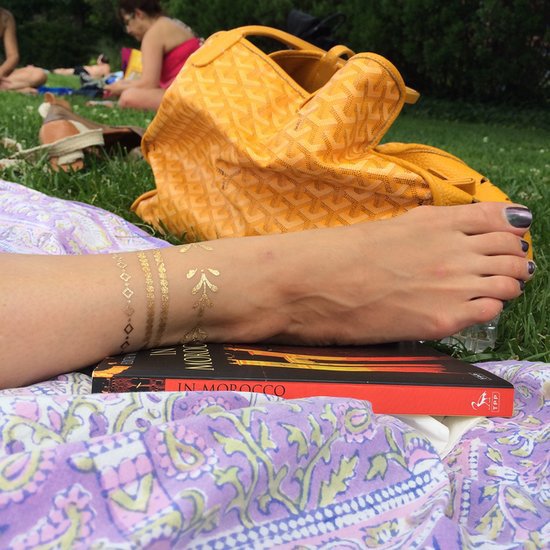 Sundays remain my favorite day of the week, and today, I spent the afternoon blissfully soaking up the sun in Hudson River Park with two friends, one of whom arrived with the most beautiful, delicate, gold temporary tattoos on her wrist and ankle. Created by Flash Tattoos, these jewelry-inspired transfers feel gloriously summery and sexy.
Available in thematic sets ranging from subtle to bold, ethnic to biker babe, I love the idea of layering these under your favorite jewelry pieces to add an element of surprise. 

Flash Tattoos are easy to apply, though as is often the case, four hands will serve you better than two. Simply position the design carefully against clean skin that's free of oils, and press with a wet cloth to transfer. Let the design set for about 10 minutes, and with proper care - oil-based body washes, sunscreens and moisturizers are the enemy here - Flash Tattoos wll last anywhere from 4-6 days.
Shop Flash Tattoos (sets range from $22 -$30 depending on intricacy of design) here, or bookmark these stunning, signature-inspired styles from jeweler Jacquie Aiche - they're currently sold out.