I'll never tire of mild voyeurism, and one of my favorite ways to indulge is by sneaking a peek inside the medicine cabinets of friends – it's sad but true. That said, my own medicine cabinet doesn't house many secrets, unless you count those of the beauty variety. Here's what's tucked inside tonight: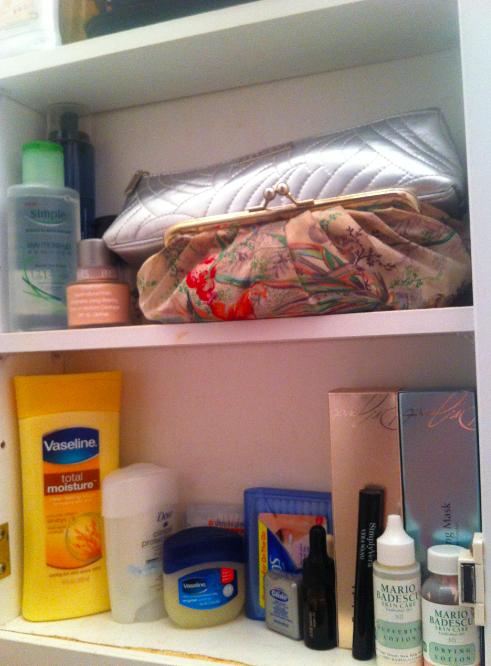 Included in the mix is, of course, my makeup bag and brushes as well as some basic beauty essentials, and skincare treats and treatments (summer's wreaking havoc on me, not sure how you're faring!)
The most recent addition to my beauty arsenal is Vaseline's Total Moisture Body Lotion. Billed a "clean feeling lotion," this ultra-emollient and super easy lotion feels good on skin, and most importantly, moisturizes effectively, eliminating the need for any other lotions. Skin is left without leaving a hint of greasiness or stickiness, which is perfect for summer. Truth be told, it's the only lotion in my life at the moment, and commitment's really an issue for me, so that's saying something.
But, apparently, I'm not the norm. In a recent study, 61% of women own more than one body lotion, and almost ¼ (23%!) own more than FOUR. And when asked WHY they own so many body lotions, 59% of women said that they had different lotions for different benefits. For example, lotions that really soften skin vs. lotions that smell absolutely amazing.
I'm curious– how many lotions does your medicine cabinet house? Leave me a comment sharing, and I'll choose 5 – yes, FIVE! – winners at random to receive a full-size bottle of Vaseline Total Moisture. Winners will be chosen at random on Friday, August 3 at 12pm EST!
While all opinions expressed are my own, this post was produced in collaboration with Vaseline.